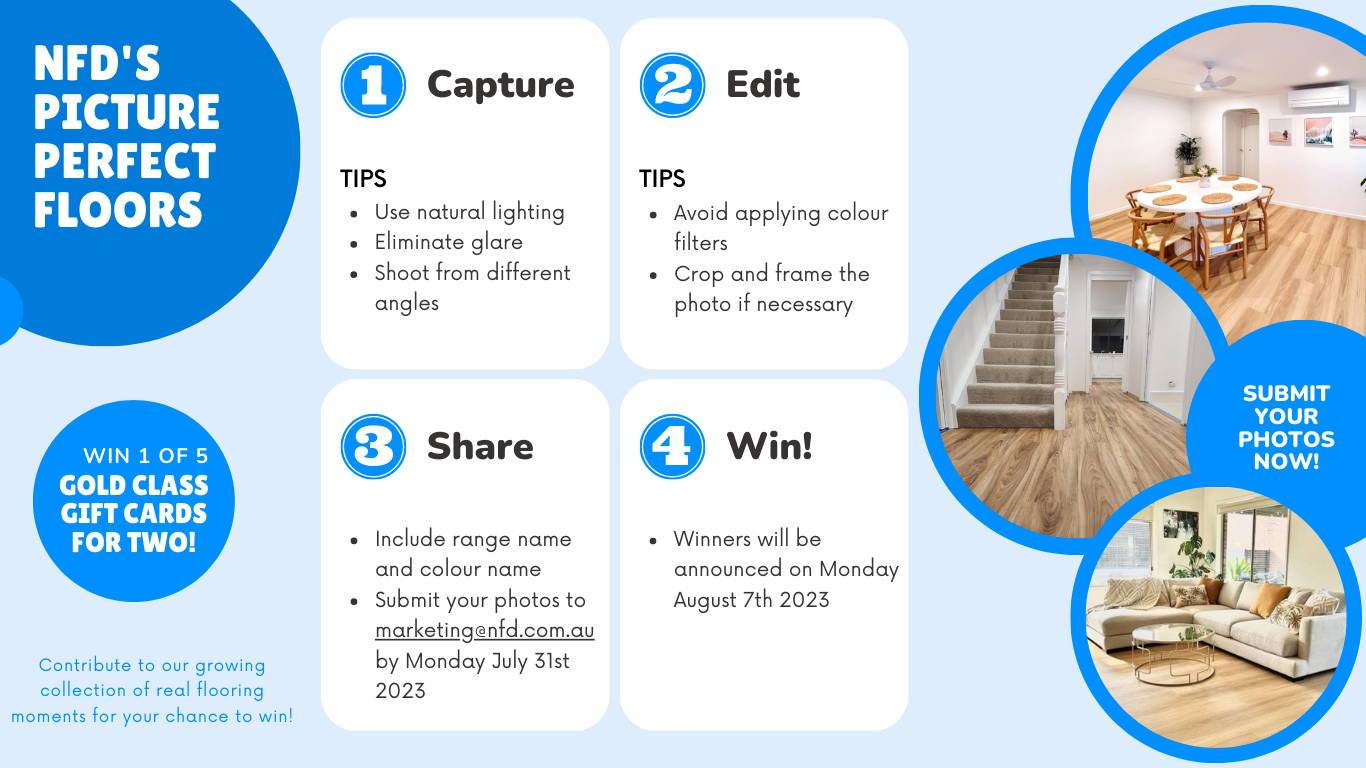 Capture your Picture Perfect Floors and Win!
Calling all NFD customers! Get ready to showcase your flooring and win a trip to Gold Class with our exciting 'Picture Perfect Floors' contest.

From 19th June to 31st July, we invite you to capture the beauty of your NFD floors in all their glory.

Here's how to participate in four simple steps:
1️⃣ Capture: Grab your camera and unleash your inner photographer. Capture stunning photos that showcase your NFD floors' intricate details, unique patterns, and captivating colours.
2️⃣ Edit: Refine your photos to showcase the flooring in its truest form. Avoid applying colour filters that alter the flooring's appearance. Instead, focus on enhancing the lighting and clarity to bring out the details. Crop or frame the photo strategically to highlight the flooring and create a captivating composition.
3️⃣ Share: It's time to share your picture-perfect floors! Submit your photos to marketing@nfd.com.au! Don't forget to include the NFD range and colour name.
4️⃣ Win: We will select the top five Picture Perfect Flooring moments. Each winner will receive a Gold Class Gift Card for two at Event Cinemas, offering a luxurious cinematic experience 🎬
By participating in the 'NFD's Picture Perfect Floors Contest', you agree to be bound by these terms and conditions. If you do not agree with any part of these terms and conditions, please refrain from entering the Contest.

The Contest will run from 19 June 2023 to 31 July 2023; the winners will be announced on 7 August 2023.
To enter the Contest, participants must submit their original photos of NFD flooring ranges, along with the range name and colour name, via email to marketing@nfd.com.au
By entering the Contest, participants grant NFD and its affiliates a non-exclusive, worldwide, royalty-free license to use, reproduce, distribute, and display the submitted photos for promotional purposes, limited to NFD's flooring ranges.
NFD shall have the right to modify or adapt the submitted photos as necessary for such promotional purposes, without further permission or compensation.
NFD will make every effort to credit participants for photos used on social media platforms and tag the respective store and installers, where possible.
Five winners will be selected by NFD from all eligible entries received during the Contest Period. The winners will be selected based on the criteria determined solely by the judges appointed by NFD.
Each of the five winners will receive an Event Cinemas Gold Class Gift Card for Two. The details and terms of the gift cards can be seen here.
Prizes are non-transferable, non-exchangeable, and cannot be substituted for cash or any other alternatives.
Southern Lights - QLD Spotted Gum
Expressive - American Oak
Southern Lights - Beachside Oak
Reaction - Coastal Blackbutt