July 03, 2019
by ADMIN NFD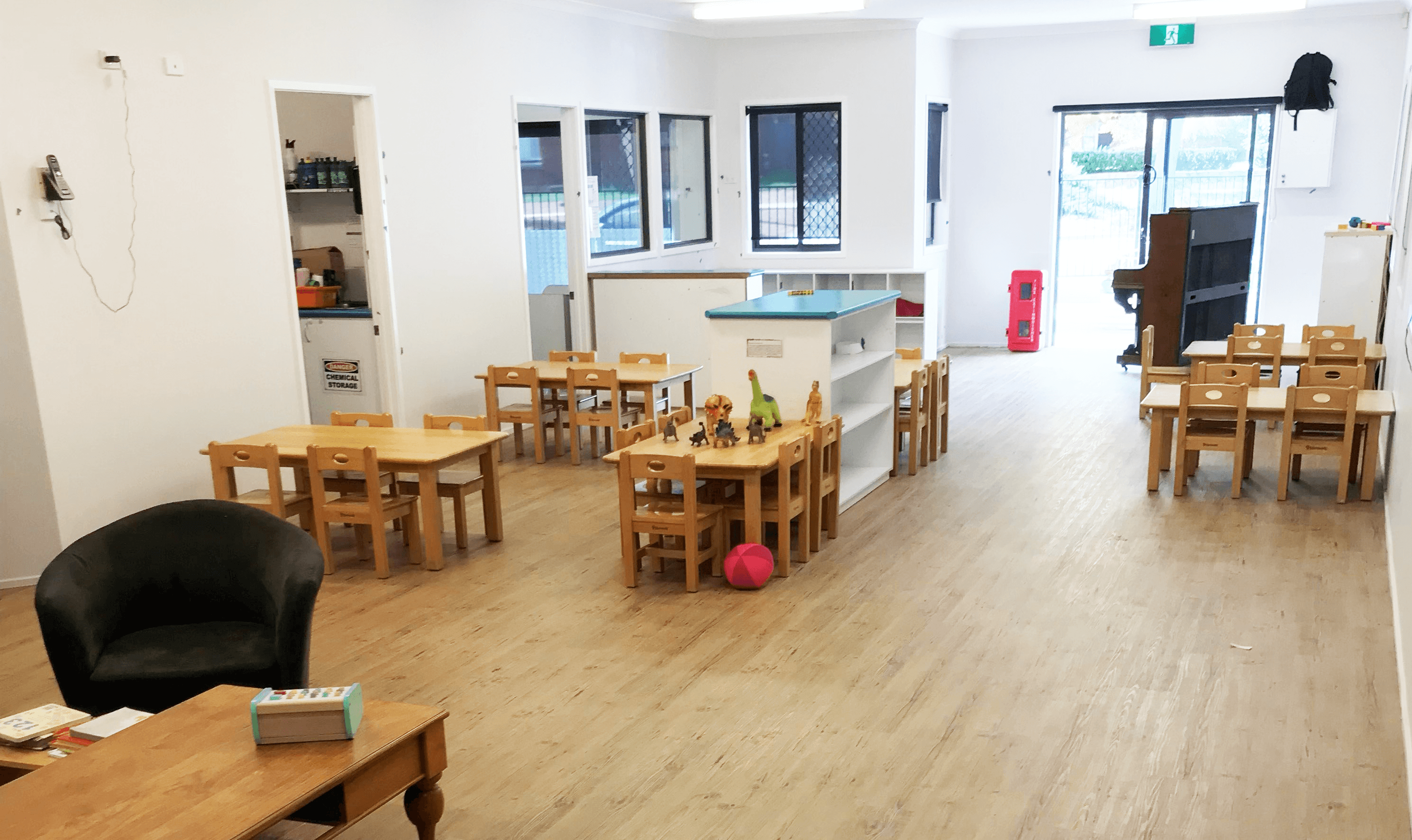 PROJECT BRIEF

With more than 150 centers across Australia, Affinity Education group have established themselves as one of the leaders in early child development through their commitment to 'Inspire Indikiduality'.Research shows quality environment in which kids learn matters as it affects their performance. The early years are critical for establishing self-esteem, resilience, healthy growth and capacity to learn.
The flooring choice for Affinity Education group have to meet the BCA strict requirements but still balanced aesthetic design with practicality and durability in all areas.
With this challenge in mind, NFD supplied the Revolution Beech Vinyl flooring for the corridors and play/lunch area. With its gentle and subtle blend of hand scraped surface to mimic natural wood, Revolution Beech flooring creates a harmonic and natural vibe to complement the wooden tables and kiddy chairs furnishing.
The versatility of NFD Revolution range made it a perfect choice for this area. In addition to the wide variety of colours available, the commercially graded vinyl flooring is durable and easy to maintain, with a P4 Slip rating, the resilient flooring is designed with Nano Silver Layer protecting against bacteria to provide that extra layer of confidence for the precious children.
The baby sleeping area was transformed using NFD Arizona Black on Black Modula carpet tiles,with its stain resistant, anti-static and P5 anti-slip rating for compliance and dark colour tones to encourage day time sleep make this modular tile an effective flooring solution.

PROJECT SPECIFICATIONS
Project:
Affinity Education Group - Papilio Early Learning Yarralumla and Papilio Early Learning Barton
Completion Date:
June 2019
Commercial Sector:
Education
Location:
48 Macgillivray Street, Yarralumla, Canberra
50 Blackall Street, Barton, Canberra
Construction Company:

Fixed Group - Melbourne Office
Flooring Contractor:
Flooring Excellence

Products:
Vinyl Plank:
- Revolution - Beech: 1200m2


Carpet Tile:
- Arizona Carpet Tile - Black on Black: 100m2
BCA Requirements:
Vinyl Plank:

- Minimum Slip Rating of P3
- Critical Heat Flux
Carpet Tiles:
- Critical Heat Flux
Additional Certification:
- FloorScore Certified