November 15, 2021
by ADMIN NFD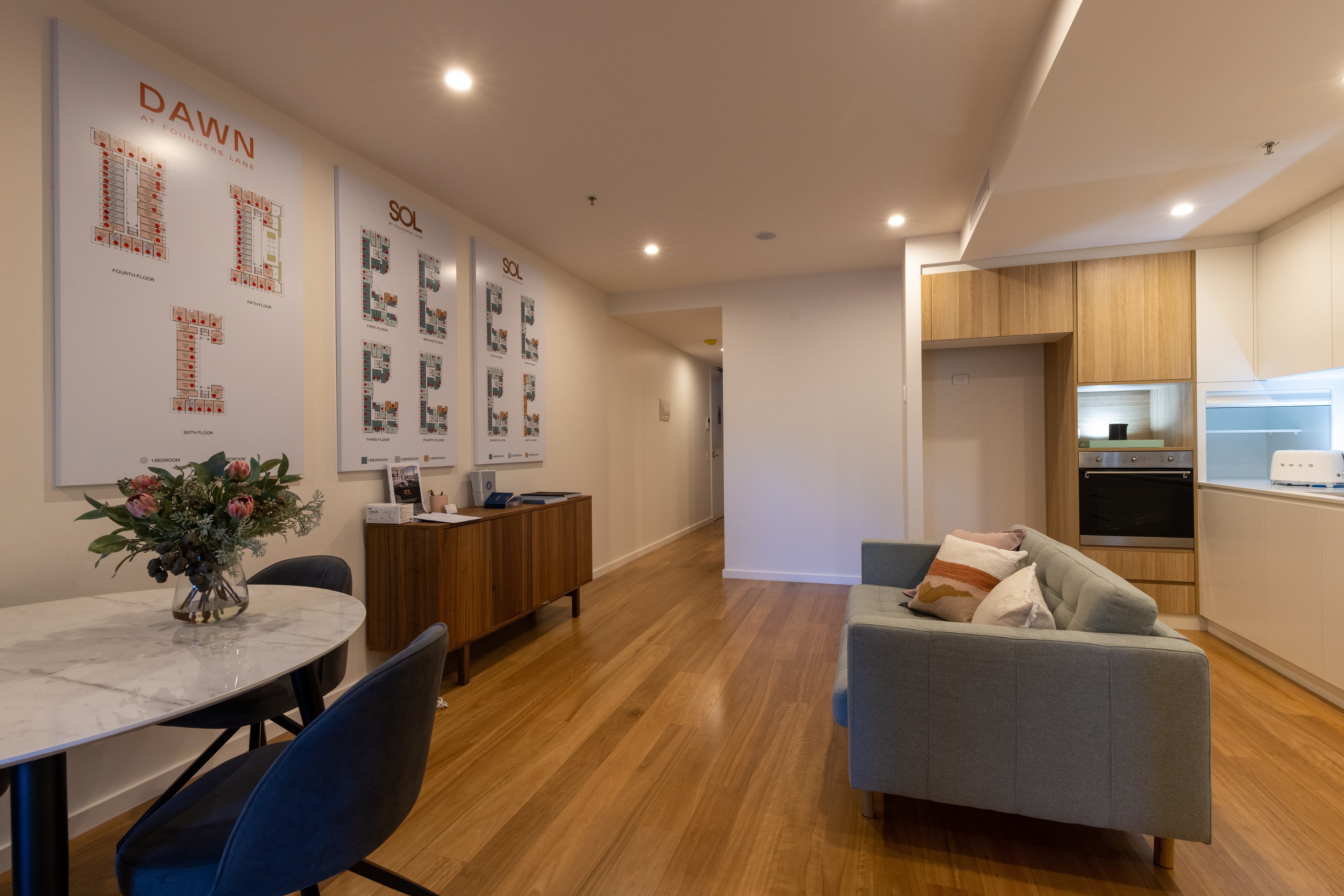 PROJECT BRIEF
The multi-residential development, Founders Lane, is a JW-Land project currently under construction in Braddon, Canberra. The highly anticipated Stage 3 and 4 releases include Dawn and the final edition Sol, which encompass the highest standards of architectural design.

With a reputation for excellence, JW-Land aimed to furnish all apartments with premium finishes in both buildings. As such, the flooring needed to offer supreme aesthetics and superior quality, while meeting BCA compliance requirements and be acoustically suitable for multi-level living.

NFD's Eternity Engineered Timber in Hickory was selected for Sol. Over 8,500m2 was supplied to complete all residences in the building. This stunning, select-grade timber floor perfectly complements the cosmopolitan, bold style of Sol, and met the requirement for all materials in the homes to be enduring.

For Dawn, an additional 8,500m2 was required, so NFD's Eternity Engineered Timber was chosen in the ever-popular Australian species, Blackbutt. The Eternity Engineered Timber lifestyle collection features a cross laminated core to maximise product stability and resilience, making it a great choice for this development. German Treffert Lacquer is applied in seven coats to the finished lamella, ensuring a timber that has been manufactured to the highest possible quality.
NFD was able to supply the specified product ahead of schedule to ensure a timely installation process. With a 5G click system, fire resistance and compatibility with underfloor heating, Eternity Engineered Timber proved to be a great fit for this project.
The NFD team are pleased to have delivered a flooring product within budget and schedule, with a fantastic outcome. Congratulations to JW-Land on their exclusive development that is captivating the Canberra community.
PROJECT SPECIFICATIONS
Project:
Founders Lane, Canberra
Completion Date:
December 2021
Commercial Sector:
Multi-residential
Location:
Canberra, ACT
Products:
8,500m2 Blackbutt Timber
8,500m2 Hickory Timber
Photography: Andrew Leung