June 17, 2019
by ADMIN NFD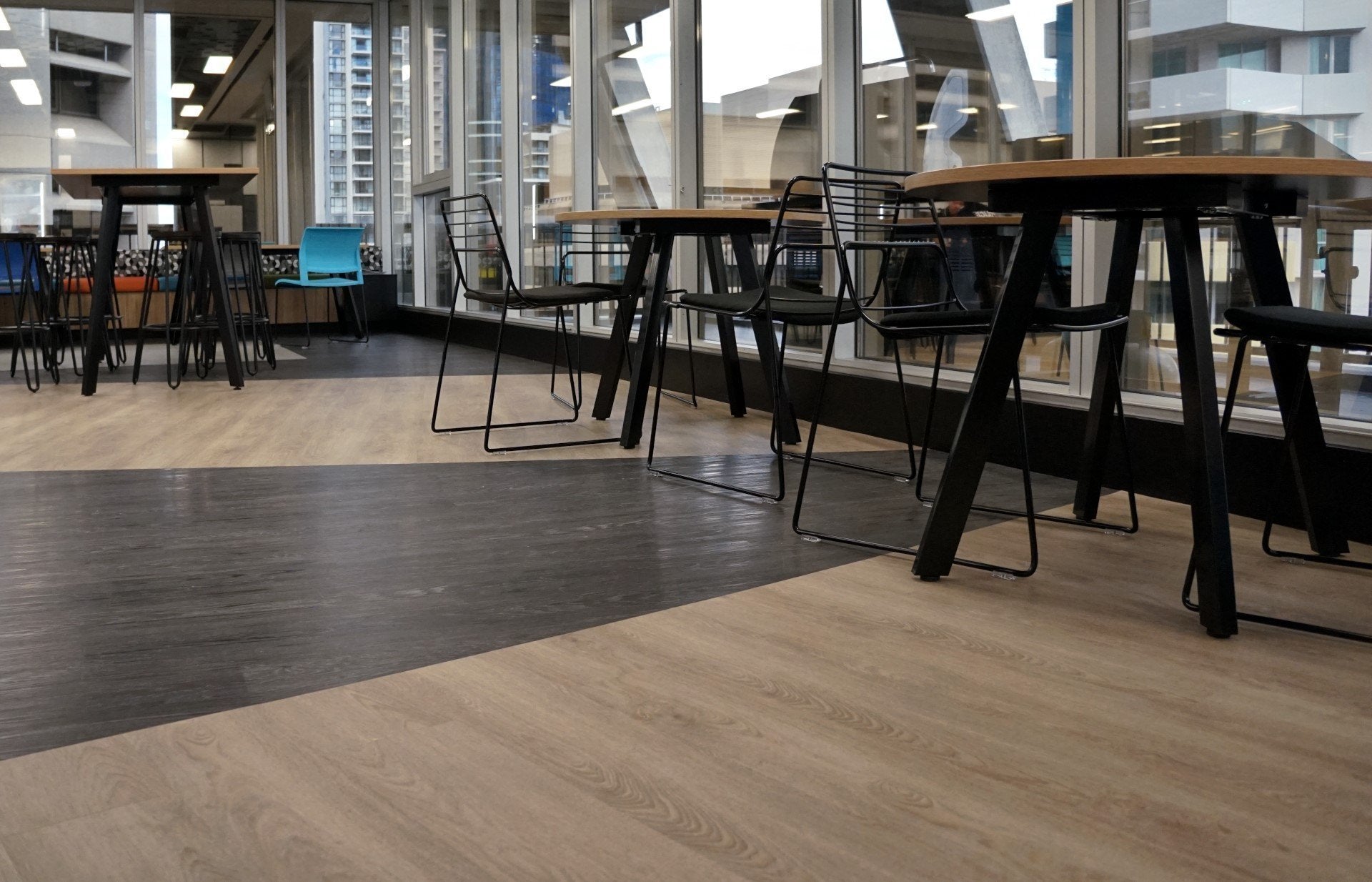 PROJECT BRIEF
National Flooring Distributors (NFD) was proud to work in conjunction with Nettletontribe Architects and Abri Projects to supply over 12,000m2 of commercial carpet tile and resilient flooring for the new offices at 85 George St in Brisbane for the Queensland Police Service.
When NFD was appointed preferred supplier, we performed within a short lead time of six weeks to deliver all of the required flooring products. Strict BCA requirements including slip rating, critical heat flux, dimensional stability and the castor wear test had to be met. We provided certification that not only surpassed these requirements but exceeded industry standards.
The project also had additional requirements needing the vinyl plank to reduce impact noise transfer. Our Soundless Acoustic Vinyl Plank range achieves a Ln,w of 61 on a 200mm slab with no false sealing and meets the BCA requirements of a Ln,w of 62 or less. In addition to this, Soundless is also a Level A Global GreenTag certified product.
We would like to congratulate Nettletontribe Architects and Abri Projects for delivering an exceptional quality project that ran seamlessly from beginning to completion.

PROJECT SPECIFICATIONS
Project:
QLD Police Service
Completion Date:
May 2019
Commercial Sector:
Government/Emergency Services
Location:
85 George Street, Brisbane, Queensland
Architecture Firms:
Nettletontribe Architects
Harry Poulus Architects
Construction Company:
Abri Projects
Products:
Luxury Vinyl Tile:
- Illusions Tile - Black Wood: 100m2
- Illusions Tile - Rocky Quartz: 80m2
- Illusions Tile - White: 100m2

Acoustic Vinyl Plank:
- Soundless Acoustic Plank - Colorado: 700m2
- Soundless Acoustic Plank - Congo: 400m2


Carpet Tile:
- Dublin Carpet Tile - Silver Pearl: 9000m2

BCA Requirements:
Luxury Vinyl Tile:
- Acoustic Rating: Ln,w rating of 62 or less, Soundless achieves a Ln,w rating of 61 on a 200mm slab with no false sealing
- Minimum Slip Rating of P2, Soundless achieves a rating of P4 Slip Rating
- Critical Heat Flux
- Dimensional stability
Carpet Tile:
- Commercial Warranty: Solution Dyed Nylon 18oz
- Critical Heat Flux: must exceed a 2.2 rating or above, our product passed comfortably
Additional Certification:
- Slip Resistance
- Fire Test
- Castor Chair Test
- Dimensional Stability
- Dynamic and Static Loading